The BxJHI is working to provide a variety of tours (group and individual) of Bronx locations of Jewish interest. Tours will be available, led by professionals, by bus, bicycle, and on foot. There will also be provision for tour groups or individuals coming to the NYC area to contact BxJHI and create a customized excursion to the historical Jewish Bronx.
Below is information about the members of the BxJHI Tour Working Group. Stay tuned for itineraries, dates, and more.
Alexandra Maruri
Alexandra Maruri is a Bronx native and small business owner. She majored in Marketing and founded Bronx Historical Tours ® in 2011 to promote the history and culture of the Borough. She is a big supporter of the Arts and Education in The Bronx. Her tours are diversified, educational, fun and unique and she takes pride in bringing visitors from all over the world  to experience The Bronx. Her life has been shaped by pivotal memories of growing up in The Bronx.
Ellen Levitt
Ellen Levitt is a lifelong New Yorker. A veteran public school teacher, Ms Levitt is the author of the three books in the series The Lost Synagogues of New York City, published by Avotaynu, and Walking Manhattan published by Wilderness Press. She has also written freelance pieces for various NYC publications (NY Times, Daily News, New York Teacher, etc.) and others as well. She runs the Facebook page "The Lost Synagogues of New York City & New Jersey." She has conducted tours by foot, bike and bus on her own and for the Lower East Side Jewish Conservancy. And she loves NYC's parks!
Susan Mills Birnbaum
 Susan Mills Birnbaum is a proud native of the Bronx. She holds a BA in History from Hunter College and an MSW from Rutgers. Susan has been a licensed NYC Sightseeing Guide since 2002. She is an active member of the Guides Association of New York City (GANYC), the oldest tour guides association in America.
Susan is a member of NYC & Company (NYCGo.com), the official marketing, tourism and partnership organization of the City of New York, and a member of the Bronx, Brooklyn and New York Historical Societies. As a Docent at the Museum of the City of New York Susan conducts public tours and you can find her there every Wednesday.
She takes you to quirky neighborhoods throughout NYC, crafting unique experiences full of interesting stories and facts.. Her love for the city of New York is infectious – even Native New Yorkers get new perspectives on a SusanSez Walkabout!   www.susansez.com
Sam Goodman
*Photo Not Available
Sam Goodman can trace his family's ties to the Grand Concourse back to 1927.  His maternal grandparents were also one of the more active members of the Mount Eden Center congregation, remaining so up until the 1970's when the building was ultimately closed.  Indeed, Sam is proud to say for the most part a member of his extended family has resided on the Grand Concourse for nearly one century.  Today Sam continues to live on the Grand Concourse and works as an urban planner for the Bronx Borough President's office, a post he has held for twenty one years.
Given this background, Sam offers a walking tour entitled "A Stroll Up The Grand Concourse."   The focus of this tour is to delve into the many and varied aspects of life on the Grand Concourse for most of the 20th century.  While visiting numerous buildings, Sam ties together decisions made by those in government and the private sector and how those decisions influenced life along this most famous boulevard.  So, if you're curious about your childhood community, want to learn more about The Bronx and its history, or just wish to take an easy stroll, you are invited to contact Sam by way of his e-mail: s800mg@aol.com.
Lee Gelber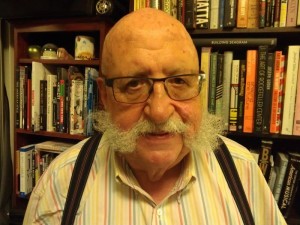 Lee Gelber, principal of Here Is New York Tours is a 23-year veteran of New York tourism. He is a Bronx native.
Lee is a past co-president of the Guides Association of New York City (GANYC) and in 2016 he was the first recipient of the organization's Guiding Spirit Award, presented at the 2nd Annual Apple Awards ceremony
Tour specialties include architecture, Holiday Lights, the Financial District, Times Square and the Broadway Theater, Jazz, the Bronx, Harlem, Literary Greenwich Village, Lower East Side, Yiddish Theater and the Triangle Shirtwaist Factory Fire.
Starting a second career as a double – decker bus guide for the now- defunct New York Apple Tours, Mr. Gelber was soon recruited by the city's oldest and largest sightseeing company, Gray Line New York. At Gray Line, he performed a variety of functions including the start-up of Gray Line's double-decker tour operation, hotel sales, public relations, tour development and guide training. It was the last duty that earned Mr. Gelber the sobriquet "Dean of Guides". The title was bestowed on him by New York Times reporter after she attended one of Mr. Gelber's weekly seminars for guides.
Several of New York's licensed tour guides were originally students at the Learning Annex where Mr. Gelber taught a course "How to be a New York City Tour Guide". Other "master class" activities include being part of the faculty of the highly regarded Tour Guide Enhancement Program offered by NYC & Company, the city's convention and visitors' bureau.
He is a two-time contributor to the acclaimed anthology "City Secrets – Manhattan". Works in progress include "What's That Edifice, Rex – an informal guide to architectural gems and clunkers of New York and "Ghosts of Shopping Past" a necrology of New York retailing.
Spring of 2005 saw the launch of City Sights NY, a new hop-on/hop-off line sightseeing program featuring tours designed and developed by Mr. Gelber.  City Sights is now part of the major sightseeing and transportation company, Twin America.
Mr. Gelber is also a principal in Outside In Tours a company that offers custom private tours, primarily travelling on foot and subway.
Mr. Gelber may be often be found in the galleries of the Museum of the City of New York where he is a sponsor of From the Bowery to Broadway, New York's Yiddish Theater exhibition. He also was a sponsor of the exhibition Everything is Design, the Work of Paul Rand (nee Peretz Rosenbaum) and is a member of the museum's Alexander Hamilton Circle.