The Bronx Jewish Hall of Fame was established by the Bronx Jewish Historical Initiative in 2015.  It is intended to honor Jewish individuals from the Bronx  in recognition of their Bronx heritage and their lifetime achievement, epitomizing what makes our community great.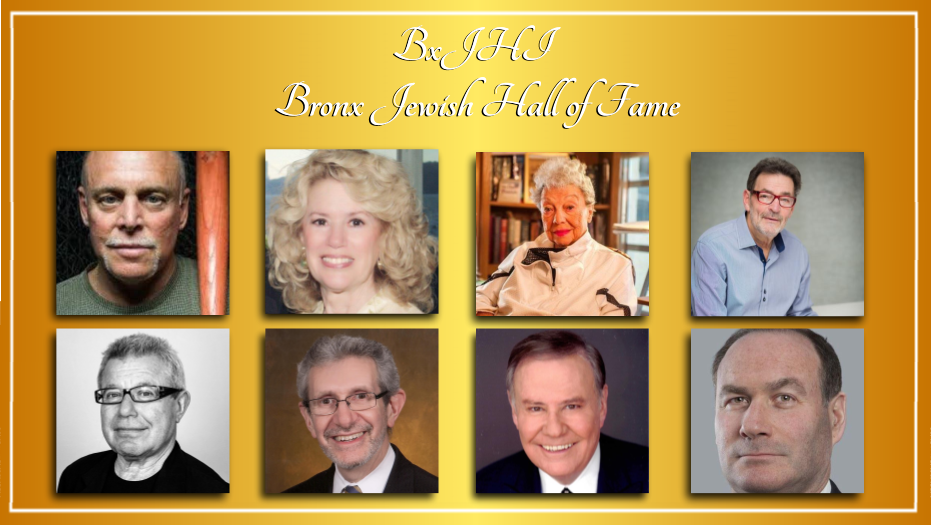 Ron Blomberg
MLB's first designated hitter and the "great Jewish hope" of the
NY Yankees during the 1970's
June Eisland
Former NYC Council Member, District 11
Miriam Hoffman
playwright, author, lecturer
Joel Iskowitz
designer, illustrator, artist
Daniel Liebeskind
architect, artist, professor
Michael Miller
Executive VP & CEO/Jewish Community Relations Council
Marvin Scott
Senior Correspondent and Anchor WPIX-TV
Jeffrey Wiesenfeld
principal at Bernstein Global Wealth Management
Emcee:  Juliet Papa, WINS 1010 Radio
WEDNESDAY, NOVEMBER 29, 2017
The Bronx Museum of the Arts



Ron Blomberg

Ron Blomberg owns a spot in baseball history as the game's first Designated Hitter. But for many New York Yankees fans he had another designation: "the Yankees great Jewish hope."

He titled his autobiography, "Designated Hebrew."
Blomberg loved being a part of New York's sports scene. He was a No. 1 draft choice of the Yankees in 1967 and made it to the Bronx in 1969. His career lasted nearly a decade and he enjoyed the Big Apple atmosphere.
"To be able to play in front of 8 million Jews! Can't beat it," Blomberg once told New York Magazine. "I lit everyone's candles for every bar mitzvah in the city. It was like I was related to everyone. They named a sandwich after me at the Stage Deli."





June Eisland

June Eisland began her career in Public Service when Mayor John Lindsay appointed her to run the Mayor's Urban Action Task Force in the North West Bronx. June was appointed by then Bronx Borough President Robert Abrams to her local Community Board where subsequently she became Chair. Additionally she served on numerous Boards, including Hebrew Home for the Aged, Francis Shervier Home, League of Women and Voters, and Riverdale Neighborhood House. She was also co-founder of the Skyview Tenants Association and the Riverdale Senior Center.

June M. Eisland spent twenty-three years as a member of the New York City Council, serving in several capacities, most notably as the chair of the Transportation Committee and as the Chair of the Committee on Land Use, Zoning, Franchises and Landmarks. June was the very first official in the City of New York to advocate for an Automated Fare Card, which evolved into the Metro-Card. She is still affectionately known as "Mother of the Metro Card". June successfully led the effort to establish the first modern ferry service between New York City and New Jersey.





Miriam Hoffman

Miriam Hoffman, an author, scholar and survivor of the Russian gulag and the Post-World War II DP Camps, has spent her life preserving the Yiddish language and culture that she cherishes so dearly. Her accomplishments in education, arts and literature have impacted both Jews and non-Jews alike.
As a child in the Post-War D.P. (Displaced Person) Refugee Camp in Ulm, Germany, she brought with her an Album of life in the DP camp as well as keeping a journal of over 80 songs in four different languages – Yiddish, Hebrew, Russian and Polish. The ULM album has been shared with the Holocaust Memorial Museum in Washington, D.C. She has written over a dozen plays which have won awards and have been produced all over the world.




Joel Iskowitz

Joel Iskowitz is one of few living artists to have had his artwork displayed in the Pentagon, the Capitol and the White House. He has created artwork for three decades that has graced the covers of books, periodicals, journals, public spaces, coins and postage stamps worldwide. He is also an active United States Air Force (USAF) artist and has a number of oils in the USAF permanent collection. Mr. Iskowitz has been invited twice to document Space Shuttle missions and his artwork is on permanent display at the NASA Kennedy Space Center Museum. He is the designer of both obverse and reverse of the New Frontier Congressional Gold Medal which was presented to the Apollo11 astronauts Neil Armstrong, Michael Collins, Buzz Aldrin and Mercury astronaut John Glenn, by the leadership of the Congress on November, 16, 2011 in the Rotunda of the Capitol.





Daniel Liebeskind

Polish-American architect, Daniel Libeskind is aninternational figure inarchitecture and urban design. Informed by a deep commitment to music, philosophy, and literature, Mr. Libeskindaims to create architecture that is resonant, original, and sustainable.Libeskind established his architectural studio in Berlin, Germany, in 1989 after winning the competition to build the Jewish Museum in Berlin. In February 2003, Studio Libeskind moved its headquarters from Berlin to New York City to oversee themaster planner for the World Trade Center redevelopment, which is being realized in Lower Manhattan today.Daniel Libeskind's practice is involved in designing and realizing a diverse array of urban, cultural and commercial projectsaround the globe.





Michael Miller

Michael S. Miller is the Executive Vice President and CEO of the Jewish Community Relations Council of New York (JCRC-NY). He has served in that capacity since October 1986. JCRC-NY, a beneficiary of the UJA-Federation of New York, is the central coordinating body and unified voice for more than 60 major civic, communal, educational and religious organizations in the metropolitan area. Its four thematic pillars are Intergroup Relations (Center for Community Leadership), Public Affairs/Jewish Security, Jewish Intracommunal Affairs, and Israel and International Affairs. JCRC-NY's special projects include Legal Assistance for Jewish Organizations, Jewish Heritage-NY, Celebrate Israel Parade, and the Israel Missions project. During Mr. Miller's tenure, JCRC-NY has become widely recognized as the go-to strategic bridge builder in New York, as it strengthens relations internal to the Jewish community and with the broad array of local ethnic, racial and religious groups in the area.





Marvin Scott

A member of the New York State Broadcasters Hall of Fame and recipient of 11 prestigious Emmy awards for journalistic achievement, Marvin Scott has done it all. Since joining WPIX in 1980, he has served in multiple capacities as anchor, reporter, host and producer. Scott is currently the station's Senior Correspondent and anchor/host of the weekly issues-oriented program, "PIX11 News Close Up"

A veteran journalist with over 50 years of experience in both print and broadcast mediums, Scott's background includes local, national and international assignments. He previously anchored "INN Midday Edition" and "USA Tonight Weekend," nationally syndicated newscasts produced by WPIX's Independent Network News. For several years Scott was co-anchor of the nightly "WB11 News at Ten." He has co-hosted special programs, including the Emmy award-winning "OP SAIL '92: An American Celebration", "Operation Homecoming" and a number of Columbus and Puerto Rican Day parades.





Jeffrey Wiesenfeld

Jeffrey S. Wiesenfeld is a Principal and Financial Advisor in Bernstein Private Wealth Management's New York office. Working with the firm's investment policy groups, he devises investment programs appropriate to private client and institutional needs, managing and advising an extensive client base. Jeff joined the firm in 2000 in his current position and was appointed a Principal in 2004. Previously, he was a regional director with the Empire State Development Corporation; an executive assistant to the governor of New York State, George Pataki; an executive assistant to US Senator Alfonse D'Amato; and chief of staff to the traffic commissioner of the New York City Department of Transportation under Mayor Ed Koch. Jeff earned a BA in political science from Queens College of the City University of New York and attended the FBI Academy in Quantico, Virginia.