Welcome to the Bronx Jewish Historical Initiative (BxJHI)
From its early beginnings in the nineteenth century to its ongoing history-in-the-making today, the Jewish community has been an integral part of the story of The Bronx. This new initiative, in partnership with the Bronx Borough President, is designed to be an interactive community based project which will explore, compile, record, and share the extraordinary history of the Jewish community of the Bronx, and disseminate it for posterity through the web, social media, forums, exhibits and special events. The Initiative will also look forward, enhancing the Jewish spirit that continues to contribute to the borough's special identity.
Click Here for more information
HAPPENINGS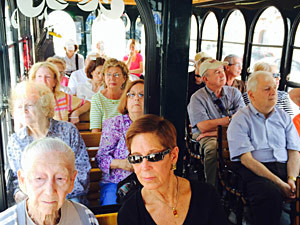 Back to the Glory of the Grand Concourse
It was an exciting day — The Bronx Jewish Historical Initiative's tour of the Jewish Grand Concourse featured narration by co-leaders author Avery Corman (My Old Neighborhood) and Bronx Historian Lloyd Ultan. The mix of nostalgia and joy at "coming home" were palpable.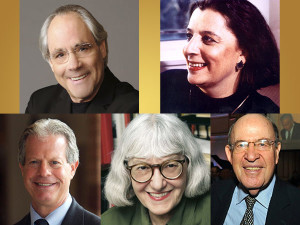 2015 Bronx Jewish Hall of Fame
Bronx Jewish Historical Initiative (BxJHI) launched its Bronx Jewish Hall of Fame on June 2, 2015 with a class of inductees including former New York State Attorney General Robert Abrams, founder of the Jewish Orthodox Feminist Alliance Blu Greenberg, RiverSpring Health President and CEO Daniel Reingold, comedian/actor Robert Klein, and award-winning author Cynthia Ozick.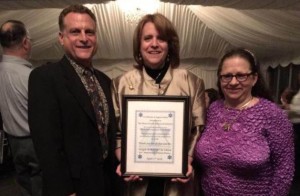 BxJHI Honored by City Island Temple
On Saturday evening, April 2, 2016, the Bronx Jewish Historical Initiative was honored by Temple Beth El of City Island (Your Shul by the Sea).  "For your dedicated service to the Jewish community of the Bronx.  Your passion and commitment to community service is an inspiration to us all," read the award, which was presented at the synagogue's 82nd Annual  Dinner/Dance.
The Bronx Jewish Historical Initiative is here for you.Our extensive list of resources provides you with online reading materials, and a list of local Synagogues lets you know where you can get connected. Learn more about the resources we have compiled for your perusal or take the time to share more with us! 
This is a space for Bronxites (former and current) to participate in a virtual community.  Take a look at the beautiful neighborhoods of Bronx, New York. Learn about their rich histories and stories.
Use this site to reconnect with old neighborhoods, schools, synagogues and friends.  Invite friends and family to connect on this space and discuss and explore the Bronx.
Check back often for BxJHI's new happenings, including tours of the Jewish Bronx.
We are so pleased to share with you all that is the Bronx Jewish Historical Initiative. It is people like you that allow us to do just that!
This website is designed for you — don't forget to tell us about your neighborhood and what it means to you!  Share your stories and your photos with us.  Questions?  Email to thebronxjewish@gmail.com.